Сензация? Мистерия? И двете! Не 5, не 50,
a
500
приказки от времето на братя Грим са открити в Регенсбург, Германия, и започват нов живот!!! Колко дълъг ще бъде той, ще разберат следващите поколения деца и родители.
А сега - преводачите са на ход...
И илюстраторите...
Издателите...
После - читателите...
Изследователите...
Литераторите...
Критиците...
И пак - читателите. Защото те ще определят дали тези приказки и предания ще намерят място сред любимите образци на детската класика...
Регенсбург - Regensburg
Sensation or mystery? Both. Not 5, not even 50,
but
500
forgotten fairytales have been discovered in Regensburg, Germany! And brought to a second life! Will it be long or short, happy or sad - the next generations will know the answers. But we, the "discoverers", will be the first to open their pages, read their words, travel and dream in their worlds. After 150 years... What a privilege!
So now it's time for the translators...
The illustrators...
The publishers...
And then - the readers...
The researchers...
The critics...
And again - the readers. Because they will decide whether these fairytales will find place among the most beloved children's books...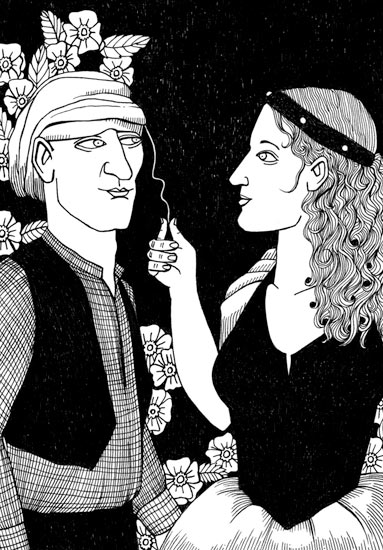 илюстрация на Барбара Щефан
по новооткритата приказка
"Царят със златната коса"
"King Golden Hair"(one of the newly-discovered fairytales). Illustration: Barbara Stefan
You can read the article, published in "The Guardian"
here
.
Преведох статията на Victoria Sussens-Messerer, публикувана на 5 март тази година във вестник "Гардиън", за да я прочетат повече хора.
Един цял нов свят от магически животни,
смели млади принцове и зли вещици излезе на светло, след като бяха открити 500 нови приказки, стояли заключени повече от 150 години в архив в Регенсбург, Германия. Те са част от колекция митове, легенди и приказки, събрана от местния историк Франц Ксавер фон Шьонверт (1810-1886) в баварския район на Оберпфалц приблизително по същото време, когато братя Грим са събирали приказките, които оттогава до днес очароват възрастни и деца по цял свят.
Миналата година културният куратор на Оберпфалц Ерика Айхензеер публикува книга с избрани приказки от колекцията на фон Шьонверт, под заглавието "Принц Росцвифл." (На местен диалект - принц Скарабей). Скарабеят, познат още под името торен бръмбар, заравя в тор най-ценното си притежание – яйцата си, като след това ги овалва в топка с помощта на задните си крака. Айхензеер смята, че това наименование е символично за приказките, съдържащи, според думите й, най-ценното съкровище, което човек познава: древното познание и мъдрост, които бележат човешкото развитие, поставяйки на изпитание нашите възможности и спасението ни.
Фон Шьонверт прекарал
десетилетия
в разпитване на местни жители, работници и слуги за тамошните обичаи, традиции и история, като записвал на хартия всяка изречена дума. Якоб Грим казва за него: "Никъде, в цяла Германия, няма друг, който да събира фолклор така акуратно, усърдно и с такова чувствително ухо." Грим отива и по-далеч, като казва на краля на Бавария Максимилиан ІІ-ри, че единственият, който може да замести него и брат му в делото им, е фон Шьонверт.
Фон Шьонверт събира изследването си в книгата " Обичаи и предания от Оберпфалц", която излиза в три тома през 1857, 1858 и 1859 година. Книгата не добива популярност и потъва в забвение.
Докато проучва основно делото на фон Шьонверт, Айзенхеер открива 500 приказки, много от които не съществуват в други европейски колекции от приказки. Например, историята за една девойка, която се спасява от вещицата, като се превръща в езеро. Тогава вещицата ляга по корем и изпива всичката вода, поглъщайки младото момиче, което използва нож, за да се освободи. Колекцията съдържа също местни версии на приказки, с които са израснали децата по целия свят, в това число "Пепеляшка" и "Румпелщилцхен", и които имат най-различни варианти из Европа.
Фон Шьонверт е бил историк и е записвал това, което е чувал честно, без да се опитва да му придава литературен блясък, по което се различава от братя Грим. Според Айзенхеер това точно записване спомага за чара и автентичността на материала. Това, което я радва най-много, е, че приказките не са шлифовани. "Няма внасяне на романтичен привкус, нито опит от страна на Шьонверт да интерпретира или да разгърне своя собствен стил", подчертава тя.
Айзенхеер казва, че приказките не са само за деца. "Тяхната главна задача е била да помогне на младите хора по пътя им към света на възрастните, показвайки им, че опасностите и предизвикателствата могат да бъдат преодолени с достойнство, благоразумие и смелост."
През 2008 година Айзенхеер помага за основаването на интердисциплинарно Общество, носещо името на Франц Ксавер фон Шьонверт, което да анализира неговото дело и да му даде публичност. Тя има голямата амбиция да види приказките на английски език и ето че живеещият в Мюнхен преводач Дан Сабо вече е започнал работа над тях...
"Завещаното от Шьонверт се смята за най-значимата колекция на германо-говорящия свят през 19-ти век." – казва Даниел Драсек, член на Обществото и професор в универси
тета в Регенсбург.
Светът се вълнува от внезапната, загадъчна поява на... приказки! И това е повече от чудесно, нали?:)
The world is excited about the sudden, mysterious appearance of... fairytales! And this is more than wonderful, isn't it?:)
N.B. 21st, March - If you want to learn new details about the tales, please, read this more than interesting article by Maria Tatar - http://www.newyorker.com/online/blogs/books/2012/03/long-lost-fairy-tales.html#comments. The author is a
Professor of Germanic Languages and Literatures, and Chair of Folklore & Mythology at Harvard University.